PVTRIN e-learning platform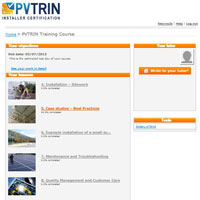 The PVTRIN e-learning platform is a 24 hours virtual classroom environment, providing flexibility and freedom to study or test where and when it's most convenient.
A range of online training supporting materials (including practical exercises, cases studies, audiovisual material and additional resources) are accessible to trainees undertaking the PVTRIN training course.




The PVTRIN e-learning platform:
encourages self-assessment, autonomy and further development
enforces the interaction between trainers and trainees
provides technical support to the certified installers for knowledge and skills development, beyond the training course.
The PVTRIN e-learning platform will be accessible only to registered PVTRIN trainees, PVTRIN trainers and certified installers.
If you are registered to PVTRIN you may access the PVTRIN e-learning platform here